Our Team
Michele

Practice Manager/Veterinary Nurse
(Cert IV Veterinary Nursing, RVN, Cert IV TAE)
Having worked in hospitality for many years, in 2012 Michele decided it was time for a change in career. Having grown up with a wide range of animals Michele knew that one day she would work with animals. Since coming to Vet Nursing she has never looked back. Michele loves that we get to know your pets and have a hand in making them better when they are not well. Michele also runs puppy preschool classes at Normanhurst Vet and loves seeing the puppies develop and then come back when they are older. Michele has a rescue cat, Snoop, who loves scratches under the chin and snuggling up on the lounge.
Amber
Receptionist

Amber has worked in the animal care industry for the past 4 years. She started working with animals at the adoption area of the RSPCA. While she was there, Amber was involved in both customer service as well as grooming. In more recent roles, Amber has spent much of her time as a dog groomer.
Amber very much enjoys both customer service as well as grooming as she values interactions with customers as well as helping the animals. At Normanhurst, you will find Amber at the front desk as well as dabbling in a little bit of dog grooming. When not at work, Amber spends time with her own pets which includes a menagerie of dogs, cats and birds.
Kayla
Senior Veterinary Nurse
(Cert IV Veterinary Nursing)
Growing up, Kayla always knew she would work with animals. She completed her Certificate 4 in Vet Nursing at Richmond TAFE back in 2011 and joined the team at Normanhurst Vet Practice in 2012. Kayla enjoys most aspects of vet nursing, however she has a special interest in Avian, pocket pets, wildlife and emergencies.
Luke
Veterinary Nurse
(Cert IV Veterinary Nursing)
After several career choices Luke has found his niche working with animals. He has a passion for native wildlife and when not at work can be found helping out various rescue groups. Since obtaining his qualification in Vet Nursing he has continued studying with a Cert III Captive Animals. He plans to have this completed by the end of 2021.
Luke loves giving extra cuddles and attention to all the pets who come into the clinic and has become a popular and well known face amongst our clients. He has a menagerie of animals at home including rabbits, birds and a gorgeous American Staffy called Romper. Luke is always helping to rehome rabbits and birds.
Sara
Veterinary Nurse
(Cert IV Veterinary Nursing)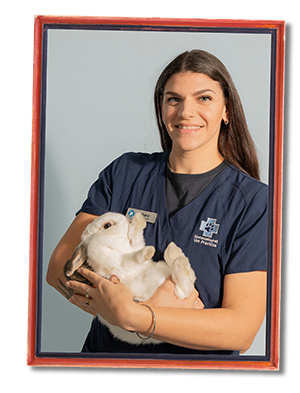 Sara is originally from Italy she made the move to Australia in 2013 and joined Normanhurst team in 2019. She previously worked in hospitality in Italy, England, Brisbane and Sydney, before deciding to change careers and follow her dream of becoming a vet nurse. She has been an animal lover since she was a child, growing up with many pets and volunteering with different animal organisations around the world. Sara completed her Cert IV Vet Nursing in 2020 and has decided to expand her knowledge further by undertaking Cert III Captive Animals. She finds caring for pets an incredibly rewarding opportunity and thoroughly enjoys nurturing a relationship with all of them. Kubrick, her ginger cat, rules the home and will spend hours just lying and sun baking.
Her dream is to one day own a property and share it with a goose, a pig, a pigeon and few cats and dogs.When Sara is not at the Clinic cuddling animals she enjoys listening to good 70's-80's rock music, watching Stanley Kubrick's movies, travelling around the globe and running.
Grace
Veterinary Nurse
(Cert IV Veterinary Nursing)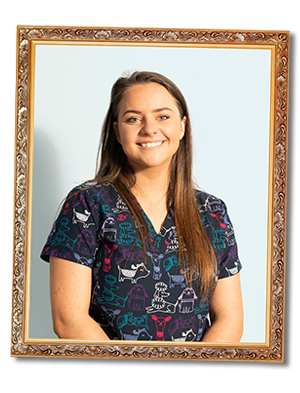 Grace is a local who grew up with two red cattle dogs. Unfortunately one has passed away from cancer but she still has Digger today. Grace's mum is a human nurse who inspired in Grace a love of looking after people and animals. From a young age Grace knew she wanted to become a vet nurse. She started her Certificate IV in 2019 and completed it last year. She brings lots of energy and enthusiasm to Normanhurst Vet Practice.
As well as looking after Digger she helps her grandparents with their alpacas on the weekend.
When she's not looking after patients she can be found singing karaoke or camping with her family and exploring the bush.
Michelle
Trainee Veterinary Nurse
(currently studying Cert IV Vet Nursing)

Michelle started her career in animal care working in pet stores helping educate people about caring for their pets. She grew up with a Maltese X Westie who she loved looking after and caring for. Having grown up with pets Michelle always knew she wanted to work with animals. In early 2021 she started her vet nursing career commencing her Cert IV Vet Nursing. She joined Normanhurst Vet Practice in mid 2021 as one of our wonderful nurses looking after pets in our care.
When she's not at work she enjoys knitting and gardening. She has 2 Border Collies which keep her very active.
Montana
Veterinary Nurse
(Cert IV Veterinary Nursing)
Montana was terrified of animals until her family gave their Great Dane Jema a home. She fell in love with Jema and helped look after her as they grew up together. When Jema became sick Montana helped nurse her and this instilled in Montana a desire to become a vet nurse. She became qualified with her Cert IV in 2020.
She joined Normanhurst Vet Practice in 2021 bringing with her a caring and calming attitude. She currently has 2 cats, Layla and Sylvester who recently became a tripod cat! In her down time Montana can be found quietly crocheting away making a variety of bags and clothes.
.
Jess
Veterinary Nurse
Jess has always wanted to be a vet and after completing a week of work experience at Normanhurst
Vet Practice in 2016 she was convinced. She is now studying the Doctor of Veterinary Medicine at
the University of Sydney and will graduate in 2024. Jess's love of animals came out of visiting her
cousin's farm in the school holidays and growing up with chickens, dogs, rabbits and a quaker parrot.
She is fascinated by surgery and hopes to work in small and large animal mixed practice when she graduates.