Our Vets
Dr Matt McLennan
BVSc.(USyd). MVS (Murdoch University)
Matt graduated from Sydney University with a goal to help pets and make their lives a little easier. This was his way of giving back to the wonderful pets and animals that had touched his life as a boy growing up in the local area.
Matt started Normanhurst Vet Practice in 2010. Initially the practice was solely Mobile, but in 2011 the practice expanded to include the fully equipped vet clinic located at Normanhurst.
Over the years, Matt has worked at a few different veterinary clinics. His first veterinary position was at the RSPCA, and since then has worked in Sydney's Hills and Hornsby Districts and Upper North Shore. It has been during these times that Matt has developed a passion for surgery.
At home, Matt lives with a Sheltie named Tully who thoroughly rules the house. Tully is put with the task of choosing which of Matt's three children to sleep with at night! Matt relaxes by playing with Rubix cubes and by going for runs along bush trails.
Dr Stephanie Drane
BVSc (Hons 1)
Dr Stephanie graduated from the University of Sydney with Honours in 2010. She worked for 4 years in a large Sydney clinic before moving to London with her husband. Stephanie spent 2 years working in a busy central London hospital and also did some locum work which allowed her to work in a number of different interesting areas of London.
After spending some time travelling and exploring Europe, Stephanie has settled back down in Sydney. She has 2 young sons, Oliver and Thomas, and an ex-Normanhurst Vet stray cat, Slinky Malinki.
Dr Reinette Swart
BVSc (Pretoria)
Reinette graduated in 2003 from the University of Pretoria. She has worked in small animal practice ever since and has a keen interest in soft tissue surgery.
In 2016 she moved to Sydney and joined the Normanhurst Vet team in 2019.
Reinette can speak the Afrikaans language fluently.
Dr James Salmond
(BVetBio/DVM)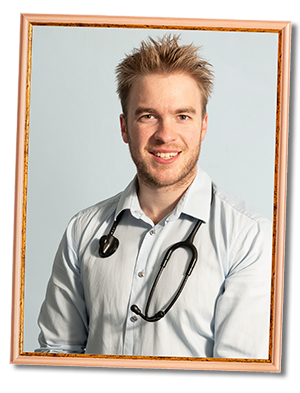 James graduated from university three years ago and worked on Sydney's Northern Beaches for a few years before joining the Normanhurst Vet Team.
James enjoys all aspects of veterinary care, but he particularly enjoys orthopaedic surgery. James has extensive experience and further training in performing a Tibial Plateau Leveling Osteotomy (TPLO) for treatment of Cranial Cruciate Ligament Disease in dogs. James has also undergone further training in the management and treatment of various fractures in dogs.
James shares his home with his wife and a beautiful 14 year old cat called Kisa. When not at home James enjoys lifting weights, running at the park and spending time with his family and friends
Dr Jennifer Liang
BAnVetBioSci (Hons 1)/ DVM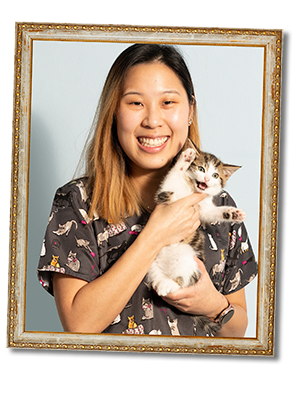 Having loved animals since the day she could remember, Jen decided to pursue a degree in animal studies after high school. After completing this, she then furthered her studies with a postgraduate degree on Doctor of Veterinary Medicine at the University of Melbourne. Since moving back to Sydney, she has been working as a small animal veterinarian with the majority of her patients being cats and dogs.
Her current interests revolve around all aspects of small animal medicine and surgery. When she isn't at work you will likely find her making new TikTok videos of her naughty cat Hyaley.